2023 Rock River Artists Open Studio Tour
Saturday + Sunday July 15+16 10am – 5pm
Start at The Old Schoolhouse in South Newfane,
enter our Artists Drawing and pick up a map.
The Rock River Artists will be opening our homes and studios once again as we invite visitors to view our creative processes, purchase artwork, and interact directly with us, the artists.
Get a behind-the-scenes look into the unique locations where each artist's work is made. Take a trip through our rural villages — visit rustic studios down county lanes, or high up in the hills with spectacular views; visit studios with lush gardens and landscaping; and studios tucked away in the woods, or along the river's edge — and see how and where art is made in Vermont.
Make a special stop at Studio #1 on the premises of the Olallie Daylily Garden to visit the retrospective, Ellen Darrow/Aho: A Lifetime of Making Art. Having lived in South Newfane for 61 years, Ellen Darrow left a brilliant legacy in many mediums including clay carvings, collages, pastels, watercolor, and more.
For more information, contact Gianna Robinson, giannapaint@gmail.com, 802-380-4448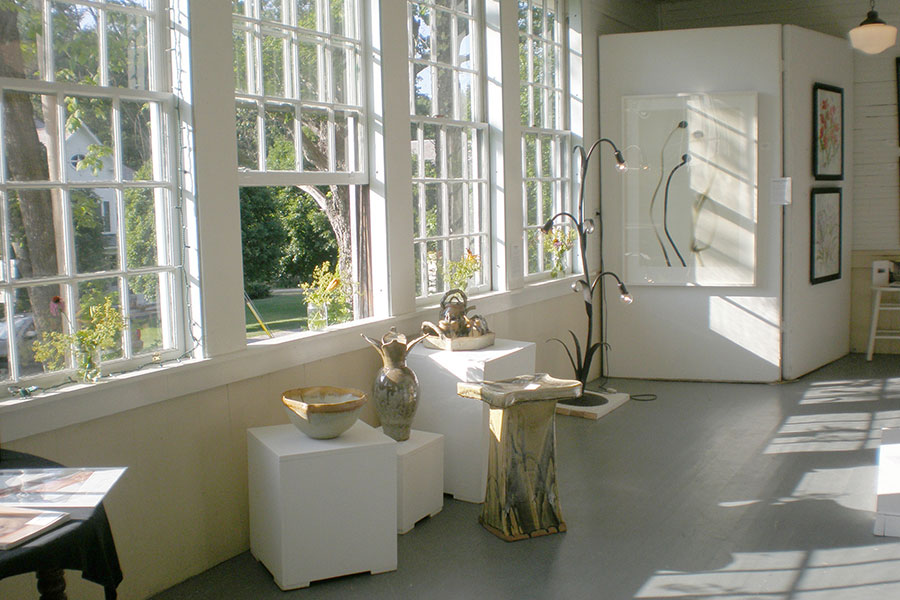 Places to Eat
Newfane offers several spots for great dining with locally-sourced food in a relaxed atmosphere. Nearby Brattleboro offers many more choices of restaurants, cafes, and take-out options. This year, best to call first to see who is open, and who is seating inside
The Newfane Store
New owner David Hull.
Excellent take-out and homemade goodies in the center of Newfane.
802-365-7775
Fat Crow
Great food and vibe in a unique contemporary setting in Newfane village
802-221-4177
Brattleboro Food Co-op
A variety of delectable dishes, including vegan and vegetarian delights, served to order from the deli counter. Can be eaten in the casual café or wrapped to go. Best variety & value in downtown Brattleboro!  802-257-0236
Peter Havens
Continental cuisine featuring seafood, in a casually elegant atmosphere. On Eliot Street in downtown Brattleboro. Call for reservations.  802-257-3333
TJ Buckley's
This unassuming place, housed in a former caboose car, is one of the finest restaurants in Vermont. Reservations are an absolute must. Eliot Street, downtown Brattleboro.  802-257-4922
Hazel
Handcrafted New York style pizza, applewood smoked BBQ, sandwiches, salads, kids menu desserts, & full bar
On Elliot Street in downtown Brattleboro.   802-579-1092
Tine
A great new addition to Brattleboro's downtown restaurant scene: localvore, award-winning menu, lively atmosphere, and full bar. Located in the newly renovated historic Brooks House in the heart of downtown.  802-254-4141
Echo Restaurant & Lounge
Bustling eatery serving brick-oven pizzas & creative Italian fare in stylish surrounds.
69-73 Main St, Brattleboro, VT 05301 (802) 254-2073
Whetstone Station
Dine outdoors overlooking the Connecticut River in this lively, casual restaurant and brewery in Brattleboro, across from the historic train station. 802-490-2354
Places to Stay
Whether you're looking for a country inn, a treehouse, a cozy cabin, or just a private room, you'll find many options in Newfane's Rock River area.
Rock River Cabin
Cozy one-room cabin on the riverfront property of Rock River Artists, Chris Triebert and Carol Ross
Willow Vermont
5-room inn and luxury treehouse in South Newfane village center
Rock River Retreat
Apartment suite in historic South Newfane village home
The Lodge at West River
Newly renovated rooms, and spectacular views of the green mountains with access to the outdoors and the West River!
Directions 
The tour begins at the Old Schoolhouse, 387 Dover Road, at the intersection of Dover and Auger Hole Roads in South Newfane, Vermont.
From the North and South (Brattleboro):
Turn left at the bottom of the ramp on Western Avenue. Proceed east on Western Avenue to Cedar Street, the 5th street on the left, 0.5 mile. Turn left on Cedar street and follow it to its end at Route 30, 0.7 mile. Turn left and follow Route 30 for 8.2 miles. Turn left onto Williamsville Road. Pass through Williamsville, over a covered bridge, and into South Newfane (4 miles). The Old Schoolhouse is on the left and will be signposted.
Southbound on Rt 30:
Take route 30 South from Bondville, Jamaica and Townshend through Newfane until you pass Newbrook Elementary School on the left. Take next right on Grimes Hill Road and follow to Williamsville and South Newfane.
From the East:
Take Route 9 west across the Connecticut River and into Vermont, straight through the roundabout to I-91 South.  Proceed south to I-91 Exit 2.  Then follow the directions above.
From the West: Take Route 9 east to downtown Wilmington. At the traffic light turn left (North) on Route 100 (North Main Street) and follow for 3.9 miles. Turn right on East Dover Road until it comes to a T with Dover Hill Road. Turn right on Dover Hill (it becomes Dover Road when over the hill) for about 8 miles to a stop sign in the center of South Newfane. The Old Schoolhouse is across that intersection (with Augur Hole road) and will be signposted.