Every year on the 3rd weekend in July, the Rock River Artists open their homes and studios for a weekend-long tour, inviting visitors to view their creative processes, purchase artwork, and interact directly with the artists. The annual open studio Tour allows visitors to get a behind-the-scenes look into the unique locations where each artist's work is made. Come take a trip through our rural villages — visit rustic studios down county lanes, or high up in the hills with spectacular views; visit studios with lush gardens and landscaping; and studios tucked away in the woods, or along the river's edge — and see how and where art is made in Vermont.
Rock River Artists Open Studio Tour
The 27th annual Open Studio Tour takes place this year on Saturday, July 20, 10PM to 6PM, Sunday, July 21, 10AM to 6PM, starting at the Old Schoolhouse in South Newfane village, where 12 participating artists present a group show. The Schoolhouse itself is worthy of a visit, as it's a classic 19th-century structure which formerly housed the village one-room school. On the weekend of the Rock River Artists Tour, the historic Old Schoolhouse with its maple wood floors and natural light streaming through old glass windows, is magically transformed into a premier contemporary art viewing venue. At the Schoolhouse, you'll see a representative sampling of each Rock River Artist's work. Pick up a map to the studio locations and begin a self-guided tour of the studios of your choice, all within short driving distance of the Schoolhouse. Admission is free all weekend.
For more information, contact Roger Sandes at 802-348-7865 or rs@rogersandes.com.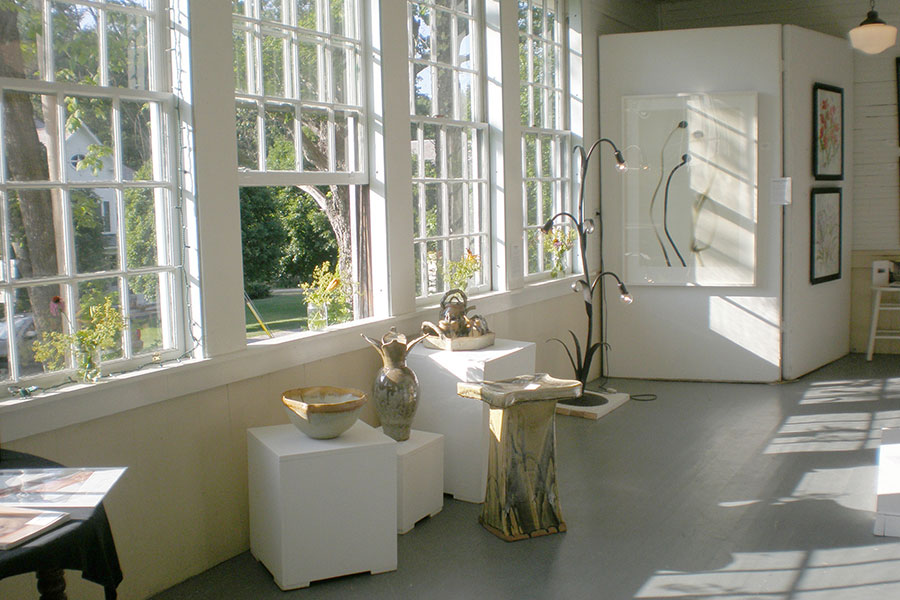 Directions 
The tour begins at the Old Schoolhouse, 387 Dover Road, at the intersection of Dover and Auger Hole Roads in South Newfane, Vermont.
From the North and South: Take I-91 to Vermont Exit 2.  Turn left at the bottom of the ramp on Western Avenue.  Proceed east on Western Avenue to Cedar Street, the 5th street on the left, 0.5 mile.  Turn left on Cedar street and follow it to its end at Route 30, 0.7 mile.  Turn left and follow Route 30 for 8.2 miles. Turn left at Williamsville Road (its name changes to Depot Road at the Dummerston-Newfane town line). Follow this road for 2 miles, until it comes to a T just after the bridge over the Rock River. Turn left at the T, on Dover Road for 2 miles. You will pass through Williamsville, over a covered bridge, and into South Newfane. The Old Schoolhouse is on the left and will be signposted.
From the East: Take Route 9 west across the Connecticut River and into Vermont, straight through the roundabout to I-91 South.  Proceed south to I-91 Exit 2.  Then follow the directions above.

From the West: Take Route 9 east to downtown Wilmington. At the traffic light turn left (North) on Route 100 (North Main Street) and follow for 3.9 miles. Turn right on East Dover Road until it comes to a T with Dover Hill Road. Turn right on Dover Hill (it becomes Dover Road when over the hill) for about 8 miles to a stop sign in the center of South Newfane. The Old Schoolhouse is across that intersection (with Augur Hole road) and will be signposted.
Places to Stay
Whether you're looking for a downtown hotel, a cozy cabin, or a country inn with sweeping vistas, you'll find a place to stay nearby. Here are a few ideas to get you started.
Rock River Cabin
On the South Newfane riverfront property of Rock River Artist, Christine Triebert
802-348-7440
54 Dover Road b+b  
Bed and breakfast in historic Williamsville village home
802-348-7156
The Four Columns Inn
Newfane
802-365-7713
Frog Meadow Inn
A breakfast and massage oasis for men
802-365-7242  Toll Free: 877-365-7242
Colonial Motel
Brattleboro  800-239-0032
Forty Putney Road Bed & Breakfast
Brattleboro  802-254-6268
Latchis Hotel
Brattleboro  800-798-6301
Deerfield Valley Inn
West Dover   800-639-3588

Mountaineer Inn
Mount Snow  800-682-4637
Windham Hill Inn
West Townshend   800-944-4080
Places to Eat
On Sat night of the Tour
Annual community BBQ Dinner. 6-8pm. A real Vermont experience in historic Williamsville Hall.  Pulled Pork, chicken, baked beans, cole slaw, and corn bread;  $12 per person;  Kids under 10, $8.  Vegetarian options too!
Williamsville Eatery
Feel right at home in our newly-opened neighborhood eatery…  Serving up eclectic and rustic fare, brick-oven pizza, beer and wine, and highlighting local ingredients. In the former Williamsville general store.   802-365-4442
Artisan Restaurant & Tavern
Fine dining in a casual atmosphere in Newfane
802-365-7713
Brattleboro Food Co-op
A variety of delectable dishes, including vegan and vegetarian delights, served to order from the deli counter. Can be eaten in the casual café or wrapped to go. Best variety & value in downtown Brattleboro!  802-257-0236
Chelsea Royal Diner
Fresh, high-quality family fare, including homemade pie and ice cream. On Route 9 in West Brattleboro.  802-254-8399
Flat Street Brew Pub and Taproom
A lively downtown Brattleboro pub with hearty food and drinks.  802-254-6300 • (800) 798-6301
Peter Havens
Continental cuisine featuring seafood, in a casually elegant atmosphere. On Eliot Street in downtown Brattleboro. Call for reservations.  802-257-3333
TJ Buckley's
This unassuming place, housed in a former caboose car, is one of the finest restaurants in Vermont. Reservations are an absolute must. Eliot Street, downtown Brattleboro.  802-257-4922
Hazel
Handcrafted New York style pizza, applewood smoked BBQ, sandwiches, salads, kids menu desserts, & full bar
On Elliot Street in downtown Brattleboro.   802-579-1092
Duo
A great new addition to Brattleboro's downtown restaurant scene: localvore, award-winning menu, lively atmosphere, and full bar. Located in the newly renovated historic Brooks House in the heart of downtown.  802-254-4141
Echo Restaurant & Lounge
Bustling eatery serving brick-oven pizzas & creative Italian fare in stylish surrounds.
69-73 Main St, Brattleboro, VT 05301 (802) 254-2073
Whetstone Station
Dine outdoors overlooking the Connecticut River in this lively, casual restaurant and brewery in Brattleboro, across from the historic train station. 802-490-2354