Pottery
Slide bar to see more artwork. Click on any image to enlarge.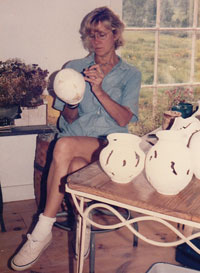 129 Augur Hole Road
South Newfane, VT 05351
802 348 7715
reticentmuse3@gmail.com
POTTERY
Ellen (Aho) Darrow and Richard Foye have been collaborating on pottery for over 40 years. They have experimented with a variety of techniques that combine Aho's artistic vision and Foye's method of making pottery.What is important to both of them is the vitality of the pot. On greenware (unfired clay) the linear design is incised by Aho in the tradition of scraffito; the negative spaces carved out in the tradition of bas relief. The pot is then bisque fired and glaze fired in the tradition of Raku by Foye. For Aho the way the drawings relate to the shape of the vessel is more important than the accuracy of the drawing. The narrative curves around the pot like a mobius strip. The balance of negative and positive spaces results in a pot that has personality and presence.
SMALL WORKS ON PAPER
After a long hiatus, Aho returned to working with Pastels and Stick and Ink. These drawings and paintings involve people, animals, plants and the objects she lives with. She continues to do the collages although more and more incorporates new work. Aho has an unorthodox approach to pastels. She layers color over color, occasionally carving through one hue to another. She often incorporates ink drawings into the paintings.