Custom Furniture
Slide bar to see more artwork. Click on any image to enlarge.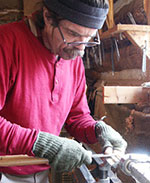 PO Box 17
South Newfane VT 05351
802 348 7701
1dandewalt@gmail.com
Dan Dewalt is a fourth generation cabinetmaker. He is one of a few woodworkers who performs fi ne period antique restoration. While his commission work runs the gamut from reproductions to realizations of other designers' work, his original creations evolve more organically. Surrounded by beautiful and unusual pieces of wood, he allows the shapes and quirks of the materials to guide the design process. His work and clients reside for the most part in the greater New England area.
This year, I am excited to be creating some brand new designs and materials. In spite of an attic filled with the finest furniture wood, I am increasingly gravitating towards the funkiest, gnarliest and most unlikely pieces of wood, lumber and found objects. I am drawn not just by the unusual beauty in these pieces, but also by the serendipitous fashion in which they all came to me, whether dropped off by a knowing friend, tripped over on the water's edge, or diligently sought on an oceanside driftwood trek.
The walnut/redwood/apple branch table is a good example. The walnut top, which came from my hometown in Pennsylvania, is supported by four runner supports from the remains of a 19th century child's wooden-runner sled that came out of my neighbor's barn. The apple branch came from a friend in Marlboro, The redwood root was hauled across the country from the West Coast and given to me by another friend, and the walnut limb is from Bristol Vermont, where I get to spend some time. The table presented itself to me once I had the necessary raw materials gathered and in view.
Everyone should have this much fun.