Painting + Prints
Slide bar to see more artwork. Click on any image to enlarge.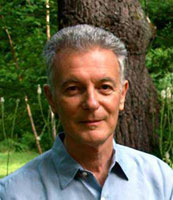 PO Box 102
Williamsville, VT 05362
802 348 7865
www.rogersandes.com
rs@rogersandes.com
The images that are incorporated into my paintings are symbols of life and fertility — icons that have been an integral part of art in all cultures since primitive times. I paint these images in ways that highlight their natural beauty and abstract form, and integrate elements of modern art and folk art, nature and artifact. By balancing the simple and complex, I hope to create objects of contemplation that will attract the eye immediately and also reward subsequent examination with layers of meaning, with luminous color, with examples of human creativity, and with allusions to living well. Each painting is a synthesis of the varied cultural influences that have shaped my visual consciousness. For a comprehensive view of my work, visit www.rogersandes.com, where a studio visit can be arranged.