Thread on Fabric
Slide bar to see more artwork. Click on any image to enlarge.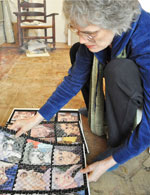 PO Box 156
Williamsville, VT 05362
802 348 7807
deidre@dscherer.com
www.dscherer.com
Deidre Scherer pioneered the figurative potential of her medium; thread on layered fabric. Her work has been exhibited at over 160 venues nationally and internationally including at the Baltimore Museum of Art; the Museum of Fine Arts in Springfield, MA; the Hebrew Union College Museum in NYC; the Renwick in Washington, DC; the Dennis Woodman Gallery in Kew, England; and the Maltwood Art Museum in Victoria, British Columbia.
"Fabric stirs our sense of touch – we are wrapped in cloth from birth through death. By meticulously piecing, layering and machine-sewing, I draw out an intimate presence that actively engages our eye."
Scherer received the 2008 Humanities Award from AAHPM as well as fellowships from the Vermont Arts Council and The Open Society Institute. Her pieces grace many book covers and articles. She wrote about her art in "Deidre Scherer: Work in Fabric & Thread" (C&T Publishing, 1998.) In many private collections, her work is also found at the Baltimore Museum of Art; the Visions Art Museum in San Diego, CA; and The Crowell Collection. Scherer has completed private commissions as well as public works such as the St. Mary's Hospital lobby in Rochester, NY; and the Tuck School at Dartmouth College in Hanover, NH.