Paintings
Slide bar to see more artwork. Click on any image to enlarge.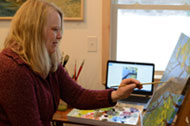 Gianna Robinson Fine Art
959 VT Route 30
Newfane, VT 05345
802-380-4448
giannapaint@gmail.com
giannarobinsonart.com


I am a self-taught landscape artist, who has had great influences growing up in an artistic family and participating in art classes at Simon's Rock of Bard College, Community College of Vermont, Smith College and independent classes at River Gallery Art School. I work with oil on canvas and panel, often completing onsite as well as interpreting from photos of landscapes and birds. I enjoy employing a stippling effect, resulting in a playful, atmospheric effect. The physical act of making marks on canvas allows me to put pause between the never-ending trails of responsibilities and cycling loops of thought that don't serve; thereby creating space to breathe and the gift to release through expression.
What draws me back to painting is the same feeling I get walking in the woods, kayaking on an open pond, or snowshoeing up a hill. It is calming, meditative and embracing. Painting keeps me connected to myself and to the grounding that nature gifts me. It helps me feel truly grateful for my senses and emotions, in addition to helping boost my mental and physical health. I feel honored and excited to be able to share with others more opportunities to connect with their own pauses and healing both in and of nature. I revel in how art embodying the natural world can bring transcendent memories indoors.