Functional Pottery
Slide bar to see more artwork. Click on any image to enlarge.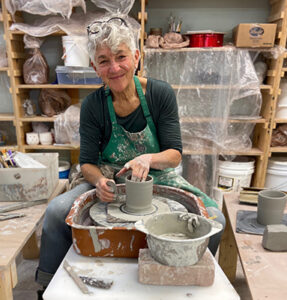 362 Dover Rd.
South Newfane, VT 05351
802-380-2580
carol@rockriver-studio.com
rockriver-studio.com
I throw small, simple shapes and use a limited glazing palette in all of my work. Some of the vessels combine the exposed natural clay body with the addition of one glaze. I work in hi-fire brown or white stoneware and produce small functional clay forms with a unique signature handle design. My graphic design background and my appreciation for directness in form, in art, and life, inspires all my work.