Pottery
Slide bar to see more artwork. Click on any image to enlarge.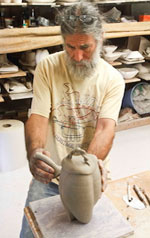 PO Box 232
Marlboro, Vermont 05344
802 254 8057
mat@matthewtellpottery.com
MatthewTellPottery.com
Matthew Tell first began working with clay in 1976, his senior year in high school. He was immediately drawn to the wonderful quality of clay – its plasticity, making it only limited by the imagination. He studied ceramics with Malcolm Wright and Michael Boyden at Marlboro College. In 1983, with seven other potters, he started the Brattleboro Clayworks, a pottery collective. Matthew moved his studio to its present location in Marlboro in 1988, where he can look out his window and see the green mountains of Vermont that he admits have influences his work. "This is reflective in the earth tone glaze overlays and suggestive landscapes I use to decorate my pots. A trip to Alaska has further opened more possibilities as to color, forms, textures, and glazes." In 1993, Matthew realized his goal of designing and building a wood kiln. " It is the awesome power of the fire that alter and enhances the pieces in the kiln. I like improvising, letting the process determine the outcome. Wood firing fulfills this need because each firing is different and full of unintended surprises."
Matthew has participated in the Rock River Artist Tours for many years.