Photography
Slide bar to see more artwork. Click on any image to enlarge.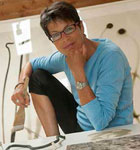 362 Dover Road
South Newfane, VT 05351
802 348 7440
chris@rockriver-studio.com
www.rockriver-studio.com
My goal in photography is to create unique and compelling imagery where the qualities inherent in the process are intrinsic to the concept of the work. Handmade tin-can cameras, images transferred to fabric, printing on hand-coated aluminum, and camera-less paper negatives are some of the custom techniques I've used in making my prints. My subject matter includes landscape, still life, portrait, and allegorical imagery – and I am always interested to see what new idea will come next.