Photography
Slide bar to see more artwork. Click on any image to enlarge.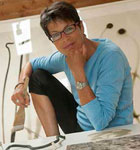 362 Dover Road
South Newfane, VT 05351
802 348 7440
chris@rockriver-studio.com
www.rockriver-studio.com
Not on the tour this year, but available other times by appointment.
Chris Triebert's photographic pieces employ a variety of custom techniques developed expressly for each new body of work. From mixed media images on fabric, to large scale works on hand-coated aluminum, to camera-less paper negatives exposed in the darkroom, Chris's goal in photo-artmaking is to create unique, personal and compelling imagery, where the qualities inherent in the process are intrinsic to the concept of the work. Her photographs include still life, portrait, landscape and allegorical imagery, and are inspired by many sources – from her background in graphic design, to spiritual teachers and texts, to the impermanence of the natural world. She is especially drawn to botanical shapes and forms she finds in the local Vermont landscape and on the island of Vieques, where she spends time each winter.
Chris's original prints are held in many collections including the Philadelphia Museum of Art, Bank of America, Polo Ralph Lauren, and The Ritz Carlton Hotel. Her photographs have been licensed by major publishers in the US and Europe including Graphique de France, Boston; the Art Group, UK; and Aperture, NY.
A visit to her studio along the Rock River will give visitors a view of her unique working environment, and the variety of processes Chris uses in making her art.