Photography
Slide bar to see more artwork. Click on any image to enlarge.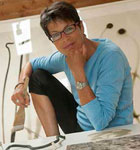 362 Dover Road
South Newfane, VT 05351
802-689-2632
chris@rockriver-studio.com
www.rockriver-studio.com
In addition to fine art photographic prints, my new work includes handcrafted functional objects for the home. Using my original images as source material, I design custom lampshades, accent pillows, floorcloths and coaster sets – offering a repurposed way to enjoy my imagery.