Paintings
Slide bar to see more artwork. Click on any image to enlarge.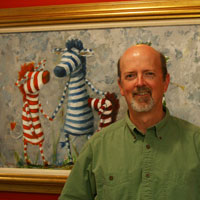 Steven Meyer
166 South Wardsboro Road
Newfane, VT 05345
802-365-7231
StevenMeyerArtist@gmail.com
stevenmeyerartist.com
Art is work. All my art is the direct result of energy, persistence, skill, and determination. This is when I feel my true self is alive and thriving.
Call it "in the zone" as many athletes do, but my time spent creating art is always the best of times… even when it's the worst of times.
Each of my pieces tells the story of its construction. See the brush strokes and the drips. Catch the light on all of the straight and the swirling scratches etched on the surface. Allow your eyes to follow the long lines left by squeegees. All this is done in layers that are difficult to discern. To me, it's all about the craft and the energy of the moment. I try not to plan too much.
I don't pretend to make grand statements about places and things. I simply wish to work at my work, knowing in the end, my art tells the story of a man and his craft. And isn't that where style develops? I can't plan my style. It comes from the work itself. It will be interesting to see where I go. We'll see after countless days of work.
I hope people enjoy looking at my artwork.
Steven W. Meyer – Biography
 
Columbus College of Art & Design
Columbus, Ohio
BFA Industrial Design – 1986
Workshop with Wolf Kahn – 1999
Art New England workshop w/Ken Beck at Bennington College 2002.
Art New England workshop w/Joel Babb at Bennington College 2003.

Landscape workshop with John Traynor – 2004.
Vermont Studio Center – Johnson, VT
Vermont Artist Week – 2010
Shows:
Windham Art Gallery – Brattleboro, VT
Shared Inspiration – November 2003.
Salon 16 – August 2004
Various shows at Windham Art Gallery 2003-2006.
Southern Vermont Arts Center – Manchester, VT
Fall Juried Show, September 2004
The Crowell Gallery – Newfane, VT
Faces/Places – Two person show – May 2005.
Crest Studios Gallery – Townshend, VT
One person show – Fall 2006.
The Works -Brattleboro, VT
Two person show – February 2014.
The Crowell Gallery – Newfane, VT One person show, January 2018.