Weathered Wood Sculpture
Slide bar to see more artwork. Click on any image to enlarge.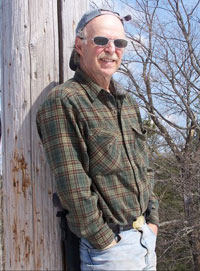 239 Wiswall Hill Rd.
Newfane, VT 05345
www.artistinwood.com
jwl.artistinwood@gmail.com
Artist Statement
Since developing my art in 1970, my work has evolved from smaller, framed works to the large, free-form sculptural pieces they are now. The medium is wood; however, the wood I use has been weathered by time and the elements, giving it an endless change of shadows, light and color. The aging of wood, usually thought to be unfortunate, is really nature's triumph and worth regarding with the same artistic vision.
The weathered wood I use in my work is from early American barns, many of which are in excess of 100 years old. I start with a sketch on paper, then transfer the design to pieces of wood that have varying colors and textures. Every piece is cut freehand on a band-saw. Using the grain and different colors of wood, each scene is meticulously fit together, forming what "appears" to be a three-dimensional interpretation.
My inspiration for this work originates from architecture I have seen, and from a desire to portray the character of these early American structures. Eric Sloane wrote about our vanishing barns in North America, and like his, I hope my work will help preserve the integrity of these fine buildings for generations to come. Every piece of wood I use in creating these scenes has a history. Please feel free to ask about their origin.
Bio
John's down time is often spent outdoors, hiking, snowshoeing and exploring the Vermont terrain with his wife, Emily and their Bernese Mountain Dog. He is a skilled carpenter, an avid history enthusiast and an animal devotee. John enjoys travel, good cuisine, and the company of close friends and family, especially his two grown children and their families.