Functional Stoneware
Slide bar to see more artwork. Click on any image to enlarge.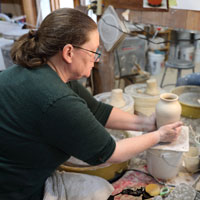 Diane Echlin Ceramics
428 S. Wardsboro Rd.
Newfane, VT 05345
802-365-7874
diane.echlin@gmail.com
Artist Biography
As a child Diane Echlin was attracted to many forms of art-making, but drew the greatest joy from digging smooth gray clay out of the soil near the pond where she grew up and modelling it into small animals and pinch pots. In highschool she signed up for her first ceramics class and by junior year was working independently in both small-scale sculpture and wheel-throwing. She briefly studied with Michael Boylen at Marlboro College in Southern Vermont before shifting to study literature. Following a long absence from ceramics Diane began her ceramics career anew in 2014 and moved back to southern Vermont in 2015. She and her two dogs enjoy the quiet life of a working potter. Her work can be found in several galleries in the area, as well as at farmers markets and craft shows throughout the region.
Artist Statement
I rely heavily on cues from the natural world to inform my work. I'm most interested in form, in finding that perfect ratio of height and width, of size and weight and balance, and then filling the pot with breath and life.
Repetition, variation, rhythm, pattern, texture, and symmetries are central to my exploration of surface treatments.