Furniture + Jewelry
Slide bar to see more artwork. Click on any image to enlarge.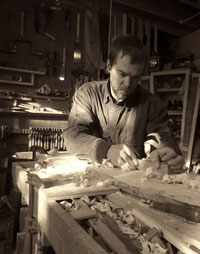 Chris Ericson
Furniture Maker
16 Merrill Mundell Rd.
South Newfane, VT 05351
802 348 9371
chris@chrisericsonfurniture.com
chrisericsonfurniture.com
Chris has been working as a furniture maker in a modest shop occupying the first floor of his South Newfane home for the past 20 years. He designs and builds his furniture drawing inspiration from many sources, most notably Asian furniture and architecture. He takes great care with wood selection and layout and finds beauty in the interplay between refined and natural lines which you will find featured in much of his work. Often, he has designed pieces around a single "beautifully imperfect" piece of wood. Working primarily with solid, local hardwoods and employing traditional joinery techniques, his furniture is made to last generations.
In the past few years Chris has begun exploring jewelry making. Using small bits of wood too beautiful for the woodstove and stones he gathers from the river, he creates one of a kind pieces.