Paintings + Drawings
Slide bar to see more artwork. Click on any image to enlarge.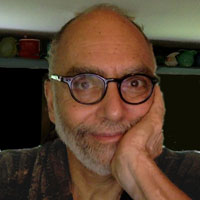 10 Wildwood Acres Rd.
Newfane, VT 05345
802 365 7016
LeonArt273@svcable.net
www.leonardragouzeos.com
Not on the tour this year, but available other times by appointment.
Since moving to Newfane in 2005 Leonard has been working primarily in black and white with India ink on paper. His large (5 to 8 ft or more) ink drawings or ink paintings most often focus on an individual person or simple and important object such as a fruit or hand tool. While the images offer a larger-than-life perspective on their subject, closer inspection of the work reveals interesting abstract textural details of the process, the worked surface and the flow of the ink medium.
In a parallel and seemingly contradictory manner Leonard has also been creating a series of small abstract watercolor (gouache) paintings. These 5 to 8 inch square works on paper explore the language of color in numerous compositional themes and variations of motif from the minimal to energetic abstracted patterns of landscape.
"I love the activity of painting, regardless of scale, medium or subject matter. What happens between the hand, the tool, medium and surface as witnessed and guided by the eye is itself the act of being alive."