Paintings
Slide bar to see more artwork. Click on any image to enlarge.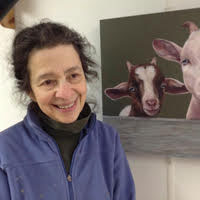 P.O. Box 113
South Newfane, VT 05351
802 380 7006
www.carynking.com
caryn@carynking.com
Statement
I love animals and I love to paint! From farm animals and birds to commissions of pets or other animals I am always painting. My style is painterly and narrative, I am concerned with each animal's unique individuality. Commissions, ideas, and studio visits are always welcomed – during the open studio tour and year round.